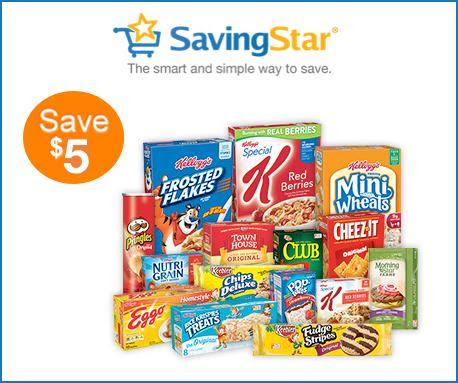 SavingStar has a ton of new coupons for you to load right now, remember you can pair these offers with manufacture coupons to save even more money. Don't wait load yours today while available.
Save $5 when you spend $30 (over multiple shopping trips) on Kellogg's, Special K, Rice Krispies Treats, Cheez-it, Keebler, MorningStar Farms, Pringles, Town House, Club, Eggo, & Nutri-Grain
Plus, Save $4.00 when you spend $16.00 on any Sunbelt® Bakery products. (only at Walmart)
Save $4.00 when you spend $16.00 on any Little Debbie® Bakery Traditions products. (Items pre-priced at $3.09 – PB Richies, Apple or Cherry Fruit Pies, Chocolate or Cosmic Cupcakes, Cloud Cakes™, Cocoa Crèmes, or Streusel Cakes (Cinnamon or Cream Cheese).
Save 60¢ On any ONE (1) Bertolli® Olive Oil 17oz or More
You can pair these offers with the cereal coupons I told you about yesterday here for extra savings!