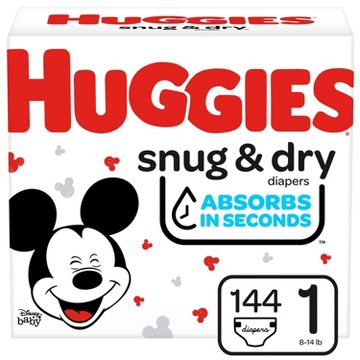 If your expecting or have a little one at home, you are not going to want to miss this HOT diaper sale staring Sunday April 2nd, at Target. I have a upcoming baby shower I may grab these for the mom to be.
We have several Target Gift Card Promotions and new High Value printable coupons to sweeten this deal. You will be able to score Huggies Super Pack Diapers for as low as $13.29 or $0.09 per diaper.
Print your coupons now as these may not last long, and your Target mobile coupon ready when your ready to checkout. You are going to Save $16 with printable coupons, plus score  $50 FREE Target Gift Cards. You will need 2 computers to print all the coupons needed for this deal. Keep in mind your Target Mobile Coupon will not be ready until Sunday April 2nd.
Here's the deal:
Buy (6) Huggies Super Pack Size 1 Diapers $24.29
Use $20 Off Target Gift Card when you buy $125 baby products
Use (4) $3.00 off one Huggies Diapers
Plus use ( 2) $2.00 off any one (1) package of Huggies® Little Snugglers Diapers 
Your Total should be $12.974
Here are your free gift cards:
Get a FREE $20 Target Gift Card when you buy $125 baby purchase
Get FREE $10 Target Gift Cards when you buy 6 select diapers
Final price after coupons and gift cards $79.74